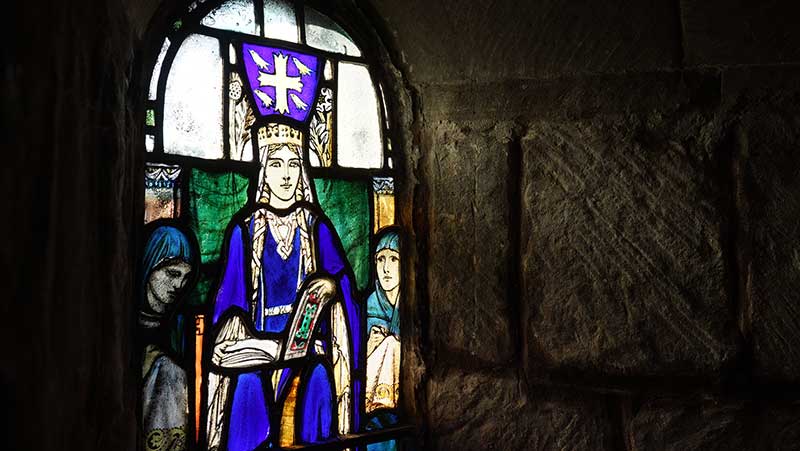 St Margaret was born about 1045 or 1047 in Hungary. She was an English princess whose family had sought refuge at the Christian court of the Kings of Hungary when the throne of England was seized by the Viking, King Cnut. Her mother was either German or Hungarian, but her father Edward was a direct descendant of the old Anglo-Saxon house of Wessex. The family returned to England in 1054 in the hopes that Edward would be recognized as the heir to King Edward the Confessor, but after his death and the Norman conquest of England, it became clear that Margaret's family would not succeed to the English throne. Quite why she and her mother, sister and brother came to Scotland is not clear, but the family landed in Fife in 1068 and were welcomed by the King of Scots, Malcolm III, whose palace was nearby at Dunfermline.
Malcolm and Margaret were married in Dunfermline in 1070 and had 8 children, 6 boys and 2 girls. Three of her sons went on to become Kings of Scots and her elder daughter became Queen of England when she married Henry 1, the third son of William the Conqueror.
Margaret had been brought up in Christian courts, first in Hungary and then in England, especially in the discipline of the Benedictines and she founded a Benedictine abbey in Dunfermline. She lived her life according to this rule, with an emphasis on prayer, fasting, and caring for the poor. She showed respect for the native Celtic church, and, with the support of her husband, managed to reconcile its practices with those of the Roman church.
An account of her life was written by the monk Turgot at the request of her daughter Edith shortly after her death and she was canonized in 1250. The best known miracle associated with St Margaret was the preservation of her gospel book which had fallen into a river, and her shrine at Dunfermline was the scene of several miracles of healing.
She died, probably in Edinburgh castle in 1093, shortly after hearing of the death of her husband and eldest son in battle.
A booklet entitled 'St. Margaret and her Chapel' is available in the Chapel for a suggested donation of £2.  The booklets are only available in the Chapel.